If you need help with your Celeste, contact tech support and let us know what kind of device you have.


Celeste: Free astrological calculations on your iPhone or iPad

With
Celeste
you can do instant astro calcs on your Apple phone or tablet, an internet connection is required. With this nifty new app you can:
Tune in to the current "astro-weather" at any time to see what's going on in the skies right now:
View a gorgeous chart wheel showing the current planet positions and aspects, with houses set for the location of your choice.
See interpretations for the current moment, based on the next aspects to be made by the Moon and planets.
Instantly calculate a birth chart whenever you want:
Get a colorful, easy-to-read wheel for any birth data that you input. The longitude, latitude and time standard are automatically supplied by the ACS Atlas.
See interpretations for each birth planet in its sign, and for current applying personal transits.
All this is free--real astrology at your fingertips, brought to you by Astrolabe, designers of professional astrology software since 1979.
Learn about the wheel design (pdf) in Celeste.
You can download Celeste from iTunes here.
Celeste on the iPhone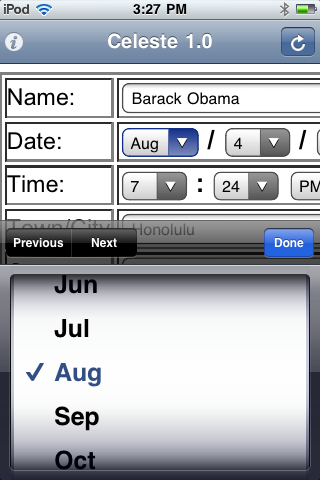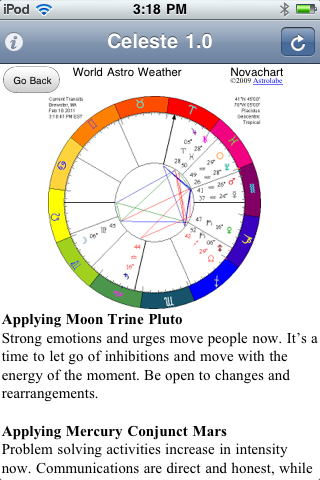 Celeste on the iPad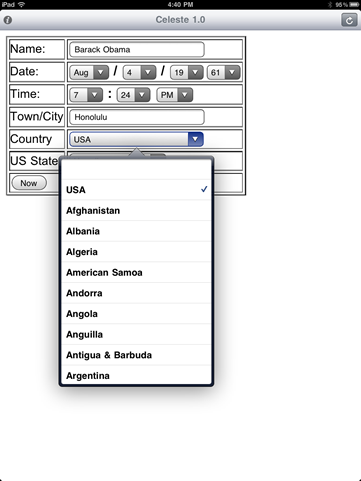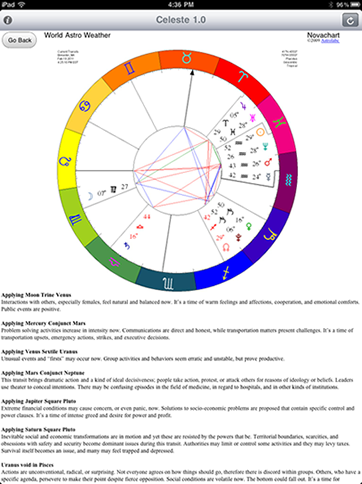 ---