Skip to main content
Astro Accessories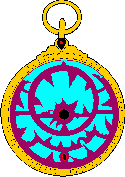 ---
Now you can keep carefully verified horoscopes of famous people in your computer for use at a moment's notice. Not just timed natal charts, but - unlike other collections - generous lists of dated, and sometimes timed, life events are included, which you can use to demonstrate predictive methods.
Each data collection contains pre-cast charts with Placidus houses, which you can immediately use with any software programs that read Solar Fire-type files. You can also add charts to these collections, making them the nucleus of your own chart database.
Historical Data Collection, $50
Arthur Blackwell and the Astrolabe staff have put in years of painstaking research, not only into biographies, but also (important for early charts) into the timekeeping conventions of other times and places. Including over 500 figures from history as well as classic celebrities of our own times, this unusual database gives you dazzling examples for lectures, writing and research.
Contemporary Data Collection, $50
Janice Mackey and Jessica Saunders have expanded their Contemporary Horoscopes collection to include over 600 20th-century achievers and newsmakers: Emmy and Oscar winners, star athletes, scientists, writers, musicians, politicians and more - all with timed charts taken straight from birth certificates. The lists of life-event dates are especially full.
Book of World Horoscopes - Country Charts, $85
Nicholas Campion, one of the world's foremost exponents of mundane astrology, now offers us his Book of World Horoscopes on disk. This epic collection of national horoscopes is based on fifteen years of research and contains 409 historically sourced charts in three different formats ready for use in Solar Fire, Solar Maps, Solar Spark, JigSaw, Nova system programs, CCRS '92 and Blue*Star.
The Ultimate Athlete Database - Sports Figures plus Teams and Events in US Basketball and Football, $50
Over 200 timed charts and hundreds of solar charts for sports figures in baseball, basketball, football, skating, golf, tennis, Olympics and NASCAR racing. Bios and sources included. Hundreds of timed and untimed charts of basketball teams, players, staff and events in basketball history. Over 1500 timed and untimed charts of football teams, players, staff and events in football history.
Galastro Deep Space Objects, $75
Besides the Stars: View more than 1,100 black holes, pulsars, quasars, x-ray sources and other nonstellar objects in relation to any natal chart. Presented in Solar Fire star-file format, this data collection enables you to see the positions of these mysterious objects in Solar Fire's Planetarium view, and to list their aspects or parans to a natal chart. Beginning with Solar Fire 5, you are also able to show selected nonstellar objects in tables on the same page as the chart wheel, and even place them around the chart wheel itself. In Solar Maps, you will be able to see any of them in relation to any point on Earth at any given moment.
This compilation by Philip Sedgwick is the result of over two decades of work and includes experimental delineations of possible meanings for all of the black holes, and the accompanying booklet contains suggestions for interpreting the other classes of deep-space objects.
Order by mail or fax using our Order Form (pdf)
For more info or to order by phone call: 1-800-THE-NOVA
---
Astro Spark, $75
Newly updated to version 2.0, and
on sale

for $75

Astro Spark is the ideal beginner's professional software for Windows. It is quick and easy to use with state of the art Chart calculations and easy-to-read natal chart interpretations. Professionals are also likely to enjoy the simplicity of Astro Spark. You can use this nifty software to begin your exploration into astrology or you can keep Astro Spark running in the background of your computer, and you'll have instant access to astrology no matter what you're doing. With one click of the mouse, you'll get a highly readable chart wheel showing the planets' current places as seen from your location. Click the buttons at the right of the wheel, and you can do lots more, including creating your own natal charts...

For more information and to purchase Astro Spark
---
Asteroid Add-On for Solar Fire, $70
This CD or download enables you to install 10,000+ asteroid ephemerides including 29 pre-selected asteroid name topic groupings to help you explore the wonderful world of asteroids.
The group topics include: Animals, Artists, Australia, Botany, Celtic, Centaurs, Cheers, Cities, Colours, Egypt, English, Geography, Greek and Roman Mythology, Greek and Roman Underworld, Hubris, Indian, Italy, Maritime, Music, Names, Nordic, Oracles and Seers, Relationships, Science, Transport, Trojans, USA, Vocation, and Writers.
And, of course, Solar Fire's existing filing system means that you can create your own personal files with Asteroids relevant to your own life!
For more information and to purchase the Asteroid Add-On
---
Astro Feng Shui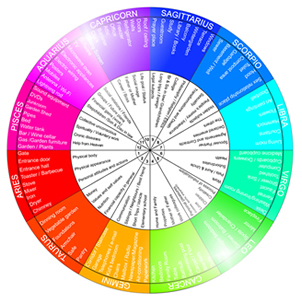 Harmonize your House and Improve your Life
LIFE COMPASS - Astro Feng Shui is an unprecedented tool developed by Hanna Opitz for astrologers and lay people. For each area in our life (love, money, health ...), there are corresponding parts and objects of the house. The area of ​​life corresponding to an object self-regulates as we repair and harmonize broken areas and objects. This is a method that can be utilized by anyone. With the help of Life Compass and its videos, you will be capable to read the clues, detect and translate existing imbalance into solutions for yourself or your friends and clients.
The Life Compass Video, viewable online, explains in an extremely easy way how to apply the benefits of the Life Compass.
The Life Compass wheel is available for download in 11 languages:
English, Spanish, German, Italian, French, Dutch, Latvian, Russian, Portuguese, Chinese and Japanese: $15.00 Order Online
The English version of the Life Compass wheel is also available as a hard copy. Shipping and handling charges will apply.
Astro Feng Shui video, length 2h10m: $ 40.00 Order Online
Life Compass and Astro Feng Shui video set: $ 50.00 Order Online
See further details, including a short video preview, on the Astro Feng Shui webpage.
---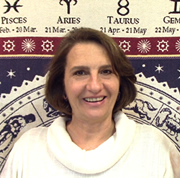 About Hanna Opitz:
Hanna Opitz is a Brazilian astrologer and an international lecturer. She teaches courses and provides astrological consulting services in homes in several countries in Europe, Asia and the Americas. Hanna is the author and co-author of 3 books and the "Life Compass - Astro Feng Shui." Nowadays she is working on a vocational midpoint research. On her website, www.hannaopitz.com, you will find suggestions of activities and places that, according to astrological symbolism, help each person recuperate energy and the state of well-being. You'll also find astrological gifts ideas, decor suggestions, and animals related to each sun sign. Her Astrology Conference https://www.youtube.com/watch?v=A5Sdi0rpSgw was viewed by more than 369,000 visitors.
---
With the Astrolabe Font, all it takes is a few keystrokes to put astrological characters into your articles, books, brochures and charts. Each font includes glyphs in any point size you want, and it gives you all the standard astrological symbols for planets, signs, aspects, moon phases and more. Each of our fonts also has additional characters of its own. These fonts work just like any other standard alphabetic or symbol font you have on your computer. You get two versions: TrueType and PostScript.
Now you can easily put astrological characters into your word processing and desktop publishing documents. Use these glyphs in text, tables, and even as additions to charts you have exported or cut and pasted from an astrological program. Or use them to make striking borders, diagrams, ads, business stationary or artwork with a distinctive astrological look.
Astrolabe Font, $50
Astrolabe Font contains the most symbols and is the most economical with space. It is an elegant medium-weight font with spacing that makes it look especially good in text.
Character Set: Besides the usual glyphs, it includes European and ancient variants for Capricorn, the Sun, Mars, Uranus, Neptune and Pluto, plus a glyph for Lilith and a comet symbol. There are also old glyphs for fire, earth, air and water, and cardinal, fixed and mutable.
To keep font changes to a minimum, this font also includes characters for the Ascendant, MC, East Point and Vertex, a complete set of numbers, both regular and as subscripts, letter subscripts for "natal," "progressed," etc., and the slash, plus, minus, equals and bracket signs used by Uranian astrologers and Cosmobiologists.
Other handy characters include 14 styles of stars; up, down and sideways arrows; a check mark; an angle symbol; and copyright and trademark symbols. And for fun, there are symbols for peace, yin/yang, "north," "don't," a horoscope wheel, infinity, and even a UFO.

Keyboard Layout:All the standard sign, planet and aspect glyphs are easily accessible from your computer's main keyboard. They are laid out across the keyboard in the usual sign and planetary order, which makes their locations easy to remember. The less-used symbols are accessible using the ALT key with the numeric keypad.
Order by mail or fax using our Order Form (pdf)
For more info or to order by phone call: 1-800-THE-NOVA
---